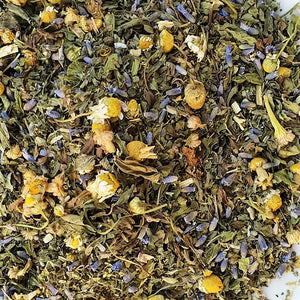 Little Echidna Home Specialty Tea - Dreamy Fields
Regular price $19.95 Sale
A gentle and calming organic blend of chamomile, lemon balm, lavender, spearmint and passionflower. Floral, minty flavours. Perfect before bedtime. Caffeine-free.
1 heaped tspn per cup (250ml). Brew with boiling water for at least 5 minutes. Nice with a drizzle of honey
60g packet
Blended and packed in Australian from local & imported ingredients

Ingredients: Organic chamomile flowers, organic lemon balm, organic lavender, organic spearmint leaves, organic passionflower.
 For your health and wellbeing the ingredients are:
Sourced from an ACO (Australian Certified Organic) Processor 

Free from insecticides and pesticides

Free from fillers or artificial flavours

GMO Free

Low GI, Gluten Free