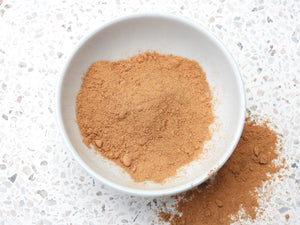 Little Echidna Home - Collagen Shake with Activated Turmeric & Cacao
Regular price $15.95 Sale
So good for you and it actually tastes great! Hydrolyzed Collagen helps to improve skin elasticity, Turmeric for its anti-inflammatory properties, Cacao Powder because it tastes good and a Maca energy boost. A little bit of spicy Ginger and ground black pepper. 80g

Healthy with a chocolaty  flavour with a hint of spice shake to start the day, contains 29% protein. Add 1 heaped teaspoon of Collagen Shake to 350ml milk of your choice a banana and blend and away you go. Or sprinkle and mix in with your favorite yoghurt.  Breakfast done!
Ingredients: Organic cacao powder, organic turmeric powder, beef collagen peptides, organic maca powder, organic ginger powder, ground black pepper

Imported ingredients. Blended and packed in Australia.
Organic Collagen Shake are:
Free from insecticides and pesticides

Free from fillers or preservatives

GMO Free

Low GI, Cane Sugar Free